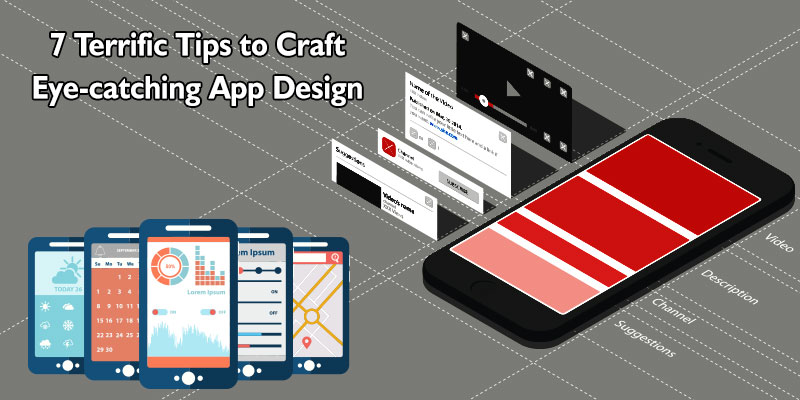 Design can make or break your app. No doubt here. If you are not an established brand, your design should be highly eye-catching. In case you are an established brand, you need at least a decent design.
Design doesn't just catch eyes, even it steals heart. If your design is pathetic or not impressive, your effort to craft code, test functionalities, and everything will be vain. Do you want it to happen? Let me help you avoid this.
Best 7 Tips to Create a Killer App Design
Create intuitive colour hierarchy
You no need to present everything in text. In fact, visual elements with a perfect blend of colors express and convey content better and quicker than texts. If you want users to choose between 4 options of different values, you can present that in this style. Hope the below image will tell you this well.
The type of design shown above adds more values to your brand image. When it comes to hiring design partners who are expert in crafting this kind of intuitive design, mobile app development companies in San Francisco stand out.
You can also use colour variations to depict 'Yes' or 'No' decisions. The below example tells you this better.
Present lists or images as stylish boxes
By listing points with bullets or images randomly, you will just give information, but there will be no exciting element for users. But if you present the same list or images as stylish boxes, it will definitely excite users. This is what we call Information Architecture (IA). The same UI designer can present the same information in a striking manner if he went into a disciplined ground work. You will understand this tips better with an example provided below.
Be responsive to users actions
Loading time pleases nobody, in fact it tests users' patience. If you want users to be patient while loading the page, use this style instead of a hanging icon.
Flat design
Flat design is one of the top design trends today. But still some designers make simple things complicated by implementing skeuomorphism design. Even many big brands, including Apple, have shifted to flat design from skeuomorphism. See the difference between skeuomorphism and flat designs in the below image.
Tinder like gestures
When I downloaded Tinder, I really felt exciting about its design more than its content. Its swiping functionality captivated me. Touch, swipe, double-tap, pinch and zoom largely contribute to create a better user experience. For a better implementation of the gesture technique, go through Luke Wroblewski's gesture guide. If you need experts to implement the same gesture technique into your app, you can think about best mobile app development companies in India, who are globally recognised for this master art.
Finger-friendly design
Finger-friendly design is one of the vital aspects of user-friendly design. Fingers are much thicker than pixel-precise mouse cursors, so you should have a special attention here. If users can't tap buttons accurately, they may get frustrated. It happens when the buttons are too small or kept closely.
Medium fonts
Font size, style and colour represent your brand image. Since mobile screens have a limited real estate, you can't use either big or small fonts. Use font that is easy to scan, pleases the eyes and is balanced well with the other elements on the screen.
Conclusion:
All the tips given above look simple, but if you implement right strategies to present them, you can yield a better outcome from your app design. In addition to this, analyse your competitors' apps to have a better understanding of the design trends. To implement it effectively, you are suggested to collaborate with an expert mobile apps development company India.