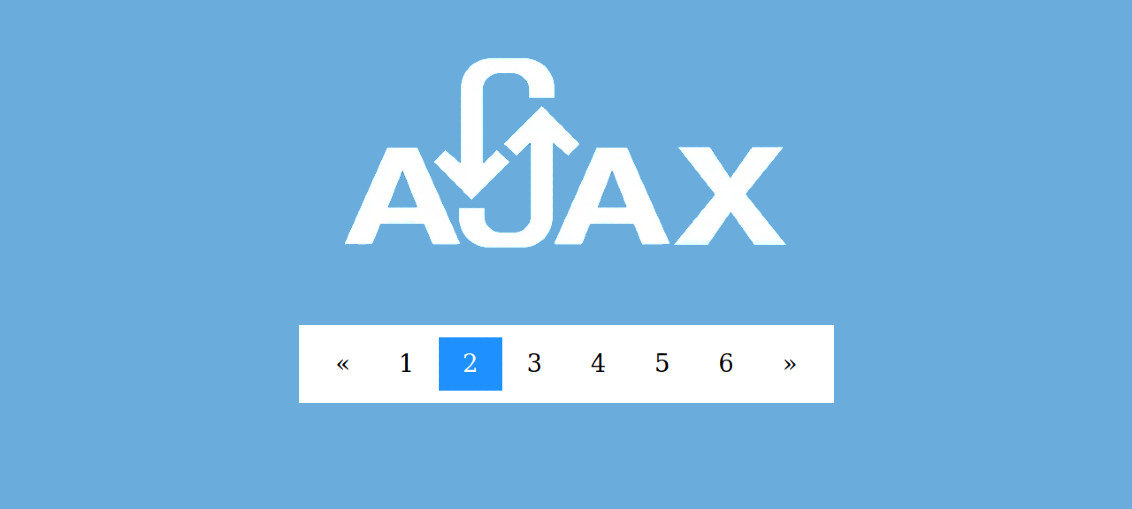 Hello Friends, Hope you are doing well, today we are going to see a pagination example using Ajax and PHP. The same concept I had used in one of my project few months ago and again yesterday, actually I can say many of the times but every time I don't remember code and have to find in old codes but today I thought to make it live so that I don't waste time finding in my old codes instead just come here and search it. Here in this example I have used two w3schools resources for product view ui and pagination ui, link given below.
https://www.w3schools.com/howto/howto_css_product_card.asp
https://www.w3schools.com/howto/howto_css_pagination.asp
Before starting the code we have to create database and table and also need insert some sample data in it. So I am sharing SQL query below as well for creating table and inserting sample data. You have to do nothing just create database using phpMyAdmin and execute below query.
1

2

3

4

5

6

7

8

9

10

11

12

13

14

15

16

17

18

19

20

21

22

23

24

25

26

27

28

29

30

31

32

33

34

35

36

37

38

39

40

41

42

43

44

45

46

47

48

49

50

51

52

53

54

55

56

57

58

59

60

61

62

63

64

65

66

67

68

69

70

71

72

73

74

75

76

77

78

79

80

81

82

83

84

85

-- https://www.phpmyadmin.net/

--

-- Generation Time: Apr 26, 2020 at 11:45 AM

-- Server version: 10.4.11-MariaDB

SET

SQL_MODE

=

"NO_AUTO_VALUE_ON_ZERO"

;

SET

time_zone

=

"+00:00"

;

/*!40101 SET NAMES utf8mb4 */

;

--

--

-- --------------------------------------------------------

--

-- Table structure for table `products`

--

CREATE

TABLE

`products`

(

`name`

varchar

(250)

NOT NULL

,

`slug`

varchar

(250)

NOT NULL

,

`price`

decimal

(10,2)

NOT NULL

,

`photo`

varchar

(512)

NOT NULL

)

ENGINE

=

InnoDB

DEFAULT

CHARSET

=

utf8mb4;

--

-- Dumping data for table `products`

--

INSERT

INTO

`products`

(`id`,

`name`,

`slug`,

`price`,

`photo`)

VALUES

(1,

'Product 1'

,

'product-1'

,

'200.00'

,

''

),

(2,

'Product 2'

,

'product-2'

,

'250.00'

,

''

),

(3,

'Product 3'

,

'product-3'

,

'200.00'

,

''

),

(4,

'Product 4'

,

'product-4'

,

'300.00'

,

''

),

(5,

'Product 5'

,

'product-5'

,

'350.00'

,

''

),

(6,

'Product 6'

,

'product-6'

,

'350.00'

,

''

),

(7,

'Product 7'

,

'product-7'

,

'300.00'

,

''

),

(8,

'Product 8'

,

'product-8'

,

'250.00'

,

''

),

(9,

'Product 9'

,

'product-9'

,

'300.00'

,

''

),

(10,

'Product 10'

,

'product-10'

,

'300.00'

,

''

),

(11,

'Product 11'

,

'product-11'

,

'350.00'

,

''

),

(12,

'Product 12'

,

'product-12'

,

'250.00'

,

''

),

(13,

'Product 13'

,

'product-13'

,

'250.00'

,

''

),

(14,

'Product 14'

,

'product-14'

,

'300.00'

,

''

),

(15,

'Product 20'

,

'product-20'

,

'300.00'

,

''

),

(16,

'Product 21'

,

'product-21'

,

'305.00'

,

''

),

(17,

'Product 22'

,

'product-22'

,

'350.00'

,

''

);

--

-- Indexes for dumped tables

--

--

-- Indexes for table `products`

--

--

-- AUTO_INCREMENT for dumped tables

--

--

-- AUTO_INCREMENT for table `products`

--

MODIFY

`id`

int

(11)

NOT NULL

AUTO_INCREMENT

,

AUTO_INCREMENT

=

18;
Note: I have also shared the download link of this dump at the end of this post
Now we can start code
config.php
1

2

3

4

5

6

7

8

9

10

11

12

13

14

15

16

17

18

19

20

21

22

23

24

25

26

27

28

29

30

31

32

33

34

35

36

37

38

39

40

41

42

function

getConnection

(

)

{

$servername

=

"localhost"

;

$conn

=

new

mysqli

(

$servername

,

$username

,

$password

,

$dbname

)

;

if

(

mysqli_connect_error

(

)

)

{

die

(

"Database connection failed: "

.

mysqli_connect_error

(

)

)

;

define

(

"T_PRODUCTS"

,

"products"

)

;

function

getProducts

(

$columns

=

array

(

)

,

$filters

=

array

(

)

,

$offset

=

0

,

$limit

=

12

,

$order_by

=

"id"

,

$order

=

"ASC"

)

{

$sql

=

"SELECT * FROM "

.

T_PRODUCTS

.

" WHERE 1"

;

if

(

!

empty

(

$columns

)

&&

is_array

(

$columns

)

)

{

$sql

=

"SELECT `"

.

implode

(

"`,`"

,

$columns

)

.

"` FROM "

.

T_PRODUCTS

.

" WHERE 1"

;

if

(

isset

(

$filters

[

'query'

]

)

&&

trim

(

$filters

[

'query'

]

)

<>

""

)

{

$q

=

mysqli_real_escape_string

(

$conn

,

$filters

[

'query'

]

)

;

$sql

.

=

" AND (name LIKE '%{$q}%' OR price LIKE '%{$q}%')"

;

$sql

.

=

" ORDER BY {$order_by} {$order}"

;

if

(

$limit

!=

-

1

&&

is_numeric

(

$offset

)

&&

is_numeric

(

$limit

)

)

{

$sql

.

=

" LIMIT {$offset}, {$limit}"

;

$result

=

$conn

->

query

(

$sql

)

;

$GLOBALS

[

'queryerrormsg'

]

=

$conn

->

error

;

while

(

$row

=

$result

->

fetch_assoc

(

)

)

{
requests.php
1

2

3

4

5

6

7

8

9

10

11

12

13

14

15

16

17

18

19

20

21

22

23

24

25

26

27

28

29

30

31

32

33

34

35

36

37

include_once

'config.php'

;

if

(

!

isset

(

$_REQUEST

[

'action'

]

)

)

{

echo

"Please provide action parameter"

;

$action

=

trim

(

$_REQUEST

[

'action'

]

)

;

if

(

$action

==

"get-products"

)

{

$filters

[

'query'

]

=

isset

(

$_REQUEST

[

's'

]

)

?

filter_var

(

trim

(

$_REQUEST

[

's'

]

)

,

FILTER_SANITIZE_STRING

)

:

""

;

/* pagination logic start */

$items_count

=

count

(

getProducts

(

array

(

'id'

)

,

$filters

,

0

,

-

1

)

)

;

$items_per_page

=

isset

(

$_REQUEST

[

'per_page'

]

)

?

$_REQUEST

[

'per_page'

]

:

5

;

$items_per_page

=

$items_per_page

>

50

?

50

:

$items_per_page

;

$max_pages

=

intval

(

$items_count

/

$items_per_page

+

1

)

;

$current_page

=

!

isset

(

$_REQUEST

[

'paged'

]

)

||

intval

(

$_REQUEST

[

'paged'

]

)

<

1

?

1

:

filter_var

(

trim

(

$_REQUEST

[

'paged'

]

)

,

FILTER_SANITIZE_NUMBER_INT

)

;

$current_page

=

$current_page

>

$max_pages

?

$max_pages

:

$current_page

;

$offset

=

$items_per_page

*

$current_page

-

$items_per_page

;

/* pagination logic end */

$order_by

=

(

isset

(

$_REQUEST

[

'order_by'

]

)

&&

in_array

(

trim

(

$_REQUEST

[

'order_by'

]

)

,

array

(

"id"

,

"name"

,

"price"

)

)

)

?

trim

(

$_REQUEST

[

'order_by'

]

)

:

'id'

;

$order

=

(

isset

(

$_REQUEST

[

'order'

]

)

&&

in_array

(

trim

(

$_REQUEST

[

'order'

]

)

,

array

(

"ASC"

,

"DESC"

)

)

)

?

trim

(

$_REQUEST

[

'order'

]

)

:

'DESC'

;

$response

[

'products'

]

=

getProducts

(

array

(

)

,

$filters

,

$offset

,

$items_per_page

,

$order_by

,

$order

)

;

$response

[

'page'

]

=

$current_page

;

$response

[

'pages'

]

=

$max_pages

;

$response

[

'msg'

]

=

"success"

;

header

(

"Content-Type:application/json"

)

;

echo

json_encode

(

$response

)

;
index.php
1

2

3

4

5

6

7

8

9

10

11

12

13

14

15

16

17

18

19

20

21

22

23

24

25

26

27

28

29

30

31

32

33

34

35

36

37

38

39

40

41

42

43

44

45

46

47

48

49

50

51

52

53

54

55

56

57

58

59

60

61

62

63

64

65

66

67

68

69

70

71

72

73

74

75

76

77

78

79

80

81

82

83

84

85

86

87

88

89

90

91

92

93

94

95

96

97

98

99

100

101

102

103

104

105

106

107

108

109

110

111

112

113

114

115

116

117

118

119

120

121

122

123

124

125

126

127

128

129

130

131

<

title

>

Products

List

-

Ajax

Pagination

<

/

title

>

box-shadow

:

0

4px

8px

0

rgba

(

0,

0,

0,

0.2

)

;

transition

:

background-color

.3s

;

/* Style the active/current link */

background-color

:

dodgerblue

;

/* Add a grey background color on mouse-over */

.pagination a:hover:not(.active)

{

background-color

:

#ddd

;

}

<

input

type

=

"text"

id

=

"search"

placeholder

=

"Press Enter After Typing Your Query"

style

=

"float: right;"

/

>

<

div

style

=

"clear: both;"

>

<

/

div

>

<

div

class

=

"pagination"

style

=

"margin-left: 35px; margin-top: 10px;"

>

<script

src

=

"https://code.jquery.com/jquery-3.5.0.min.js"

integrity

=

"sha256-xNzN2a4ltkB44Mc/Jz3pT4iU1cmeR0FkXs4pru/JxaQ="

crossorigin

=

"anonymous"

>

</script>

$

(

"#search"

)

.

keypress

(

function

(

event

)

{

if

(

event

.

keyCode

==

"13"

)

{

$

(

".pagination"

)

.

on

(

"click"

,

"a"

,

function

(

)

{

load

(

$

(

this

)

.

attr

(

"page"

)

)

;

var

data

=

new

FormData

(

)

;

data

.

append

(

"s"

,

$

(

"#search"

)

.

val

(

)

)

;

url

:

"requests.php?action=get-products&paged="

+

page

,

}

)

.

done

(

function

(

data

)

{

$

(

'#products-list'

)

.

find

(

'.card'

)

.

remove

(

)

;

for

(

var

i

=

0

;

i

<

data

.

products

.

length

;

i

++

)

{

var

template

=

$

(

'#product-template'

)

.

text

(

)

;

var

imgsrc

=

data

.

products

[

i

]

.

photo

?

data

.

products

[

i

]

.

photo

:

"http://placehold.it/220x220"

;

template

=

template

.

replace

(

'%%imgsrc%%'

,

imgsrc

)

;

template

=

template

.

replace

(

'%%alt%%'

,

data

.

products

[

i

]

.

name

)

;

template

=

template

.

replace

(

'%%name%%'

,

data

.

products

[

i

]

.

name

.

substring

(

0

,

25

)

)

;

template

=

template

.

replace

(

'%%price%%'

,

data

.

products

[

i

]

.

price

)

;

$

(

'#products-list'

)

.

append

(

template

)

;

var

pages

=

'<a href="javascript:;" page="'

+

(

parseInt

(

data

.

page

)

-

1

)

+

'">&laquo;</a>'

;

for

(

var

i

=

1

;

i

<=

data

.

pages

;

i

++

)

{

pages

+=

'<a href="javascript:;" page="'

+

i

+

'" class="'

+

(

data

.

page

==

i

?

'active'

:

''

)

+

'">'

+

i

+

'</a>'

;

pages

+=

'<a href="javascript:;" page="'

+

(

parseInt

(

data

.

page

)

+

1

)

+

'">&raquo;</a>'

;

$

(

".pagination"

)

.

html

(

pages

)

;

}

)

.

fail

(

function

(

data

)

{

<

!

--

product

template

--

>

<script

type

=

"text/html"

id

=

"product-template"

>

<

img

src

=

"%%imgsrc%%"

alt

=

"%%alt%%"

style

=

"width:100%"

>

<

p

class

=

"price"

>

₹

%

%

price

%

%

<

/

p

>

<

p

>

<

button

>

Add

to

Cart

<

/

button

>

<

/

p

>
Video
SQL Dump Download
NetBeans Project Download
Thanks friends
Your queries & suggestions are welcome in comments section
Please don't forget to share if you find this helpful