Hello Friends, It's being long time I've not shared anything with you but today I have something to share which is Different types of Tabbed Activity in Android. In one of my application idea I needed to use tabbed activity, So i thought to share with you also, what different types of tabbed activity android provided.
Actually there are three types of Tabbed Activity in Android or we can say three predefined tabbed activity template in android studio which are:-
Swipe Views (ViewPager)
Action Bar Tabs (with ViewPager)
Action Bar Spinner
But with few changes I have created another Tabbed Activity which is nothing but combination of Swipe Views and Action Bar Spinner. Actually in Swipe Views Tabbed Activity there is no way to see all tabs names just as in Action Bar Tabs or Action Bar Spinner, So I have combined Swipe Views with Action Bar Spinner, So that I can see tabs name and can change tab/page from spinner also.
So you can find my Customised Tabbed Activity code below but for the other three predefined Tabbed Activity code you can download Android Studio Project below or You can find code in Android Studio itself also.
SwipeViewWithSpinnerTabLayout.java
SwipeViewWithSpinnerTabLayout
1

2

3

4

5

6

7

8

9

10

11

12

13

14

15

16

17

18

19

20

21

22

23

24

25

26

27

28

29

30

31

32

33

34

35

36

37

38

39

40

41

42

43

44

45

46

47

48

49

50

51

52

53

54

55

56

57

58

59

60

61

62

63

64

65

66

67

68

69

70

71

72

73

74

75

76

77

78

79

80

81

82

83

84

85

86

87

88

89

90

91

92

93

94

95

96

97

98

99

100

101

102

103

104

105

106

107

108

109

110

111

112

113

114

115

116

117

118

119

120

121

122

123

124

125

126

127

128

129

130

131

132

133

134

135

136

137

138

139

140

141

142

143

144

145

146

147

148

149

150

151

152

153

154

155

156

157

158

159

160

161

162

163

164

165

166

167

168

169

170

171

172

173

174

175

176

177

178

179

180

181

182

183

184

185

186

187

188

189

190

191

192

193

194

195

196

197

198

199

200

201

202

203

204

205

206

207

package

com

.

zatackcoder

.

tablayouttest

;

import

android

.

content

.

Context

;

import

android

.

content

.

res

.

Resources

;

import

android

.

os

.

Bundle

;

import

android

.

support

.

v4

.

app

.

Fragment

;

import

android

.

support

.

v4

.

app

.

FragmentManager

;

import

android

.

support

.

v4

.

app

.

FragmentPagerAdapter

;

import

android

.

support

.

v4

.

view

.

ViewPager

;

import

android

.

support

.

v7

.

app

.

AppCompatActivity

;

import

android

.

support

.

v7

.

widget

.

ThemedSpinnerAdapter

;

import

android

.

support

.

v7

.

widget

.

Toolbar

;

import

android

.

view

.

LayoutInflater

;

import

android

.

view

.

Menu

;

import

android

.

view

.

MenuItem

;

import

android

.

view

.

View

;

import

android

.

view

.

ViewGroup

;

import

android

.

widget

.

AdapterView

;

import

android

.

widget

.

ArrayAdapter

;

import

android

.

widget

.

Spinner

;

import

android

.

widget

.

TextView

;

public

class

SwipeViewWithSpinnerTabLayout

extends

AppCompatActivity

{

* The {@link android.support.v4.view.PagerAdapter} that will provide

* fragments for each of the sections. We use a

* {@link FragmentPagerAdapter} derivative, which will keep every

* loaded fragment in memory. If this becomes too memory intensive, it

* may be best to switch to a

* {@link android.support.v4.app.FragmentStatePagerAdapter}.

private

SectionsPagerAdapter

mSectionsPagerAdapter

;

* The {@link ViewPager} that will host the section contents.

private

ViewPager

mViewPager

;

protected

void

onCreate

(

Bundle

savedInstanceState

)

{

super

.

onCreate

(

savedInstanceState

)

;

setContentView

(

R

.

layout

.

activity_swipe_view_with_spinner_tab_layout

)

;

Toolbar

toolbar

=

(

Toolbar

)

findViewById

(

R

.

id

.

toolbar

)

;

setSupportActionBar

(

toolbar

)

;

getSupportActionBar

(

)

.

setDisplayShowTitleEnabled

(

false

)

;

// Create the adapter that will return a fragment for each of the three

// primary sections of the activity.

mSectionsPagerAdapter

=

new

SectionsPagerAdapter

(

getSupportFragmentManager

(

)

)

;

// Set up the ViewPager with the sections adapter.

mViewPager

=

(

ViewPager

)

findViewById

(

R

.

id

.

container

)

;

mViewPager

.

setAdapter

(

mSectionsPagerAdapter

)

;

final

Spinner

spinner

=

(

Spinner

)

findViewById

(

R

.

id

.

spinner

)

;

spinner

.

setAdapter

(

new

SwipeViewWithSpinnerTabLayout

.

MyAdapter

(

// Change page when spinner selection changed

spinner

.

setOnItemSelectedListener

(

new

AdapterView

.

OnItemSelectedListener

(

)

{

public

void

onItemSelected

(

AdapterView

<?

>

parent

,

View

view

,

int

position

,

long

id

)

{

mViewPager

.

setCurrentItem

(

position

)

;

public

void

onNothingSelected

(

AdapterView

<?

>

parent

)

{

// Change spinner position when page change through slide

mViewPager

.

addOnPageChangeListener

(

new

ViewPager

.

SimpleOnPageChangeListener

(

)

{

public

void

onPageSelected

(

int

position

)

{

spinner

.

setSelection

(

position

)

;

public

boolean

onCreateOptionsMenu

(

Menu

menu

)

{

// Inflate the menu; this adds items to the action bar if it is present.

getMenuInflater

(

)

.

inflate

(

R

.

menu

.

menu_swipe_view_with_spinner_tab_layout

,

menu

)

;

public

boolean

onOptionsItemSelected

(

MenuItem

item

)

{

// Handle action bar item clicks here. The action bar will

// automatically handle clicks on the Home/Up button, so long

// as you specify a parent activity in AndroidManifest.xml.

int

id

=

item

.

getItemId

(

)

;

//noinspection SimplifiableIfStatement

if

(

id

==

R

.

id

.

action_settings

)

{

return

super

.

onOptionsItemSelected

(

item

)

;

private

static

class

MyAdapter

extends

ArrayAdapter

<String>

implements

ThemedSpinnerAdapter

{

private

final

ThemedSpinnerAdapter

.

Helper

mDropDownHelper

;

public

MyAdapter

(

Context

context

,

String

[

]

objects

)

{

super

(

context

,

android

.

R

.

layout

.

simple_list_item_1

,

objects

)

;

mDropDownHelper

=

new

ThemedSpinnerAdapter

.

Helper

(

context

)

;

public

View

getDropDownView

(

int

position

,

View

convertView

,

ViewGroup

parent

)

{

if

(

convertView

==

null

)

{

// Inflate the drop down using the helper's LayoutInflater

LayoutInflater

inflater

=

mDropDownHelper

.

getDropDownViewInflater

(

)

;

view

=

inflater

.

inflate

(

android

.

R

.

layout

.

simple_list_item_1

,

parent

,

false

)

;

TextView

textView

=

(

TextView

)

view

.

findViewById

(

android

.

R

.

id

.

text1

)

;

textView

.

setText

(

getItem

(

position

)

)

;

public

Resources

.

Theme

getDropDownViewTheme

(

)

{

return

mDropDownHelper

.

getDropDownViewTheme

(

)

;

public

void

setDropDownViewTheme

(

Resources

.

Theme

theme

)

{

mDropDownHelper

.

setDropDownViewTheme

(

theme

)

;

* A placeholder fragment containing a simple view.

public

static

class

PlaceholderFragment

extends

Fragment

{

* The fragment argument representing the section number for this

private

static

final

String

ARG_SECTION_NUMBER

=

"section_number"

;

public

PlaceholderFragment

(

)

{

* Returns a new instance of this fragment for the given section

public

static

PlaceholderFragment

newInstance

(

int

sectionNumber

)

{

PlaceholderFragment

fragment

=

new

PlaceholderFragment

(

)

;

Bundle

args

=

new

Bundle

(

)

;

args

.

putInt

(

ARG_SECTION_NUMBER

,

sectionNumber

)

;

fragment

.

setArguments

(

args

)

;

public

View

onCreateView

(

LayoutInflater

inflater

,

ViewGroup

container

,

Bundle

savedInstanceState

)

{

View

rootView

=

inflater

.

inflate

(

R

.

layout

.

fragment_swipe_view_with_spinner_tab_layout

,

container

,

false

)

;

TextView

textView

=

(

TextView

)

rootView

.

findViewById

(

R

.

id

.

section_label

)

;

textView

.

setText

(

getString

(

R

.

string

.

section_format

,

getArguments

(

)

.

getInt

(

ARG_SECTION_NUMBER

)

)

)

;

* A {@link FragmentPagerAdapter} that returns a fragment corresponding to

* one of the sections/tabs/pages.

public

class

SectionsPagerAdapter

extends

FragmentPagerAdapter

{

public

SectionsPagerAdapter

(

FragmentManager

fm

)

{

public

Fragment

getItem

(

int

position

)

{

// getItem is called to instantiate the fragment for the given page.

// Return a PlaceholderFragment (defined as a static inner class below).

return

PlaceholderFragment

.

newInstance

(

position

+

1

)

;
activity_swipe_view_with_spinner_tab_layout.xml
activity_swipe_view_with_spinner_tab_layout.xml
1

2

3

4

5

6

7

8

9

10

11

12

13

14

15

16

17

18

19

20

21

22

23

24

25

26

27

28

29

30

31

32

33

34

35

36

37

38

39

40

41

42

43

<?

xml

version

=

"1.0"

encoding

=

"utf-8"

?>

<android.support.design.widget.CoordinatorLayout

xmlns

:

android

=

"http://schemas.android.com/apk/res/android"

xmlns

:

app

=

"http://schemas.android.com/apk/res-auto"

xmlns

:

tools

=

"http://schemas.android.com/tools"

android

:

id

=

"@+id/main_content"

android

:

layout_width

=

"match_parent"

android

:

layout_height

=

"match_parent"

android

:

fitsSystemWindows

=

"true"

tools

:

context

=

".SwipeViewWithSpinnerTabLayout"

>

<android.support.design.widget.AppBarLayout

android

:

layout_width

=

"match_parent"

android

:

layout_height

=

"wrap_content"

android

:

paddingTop

=

"@dimen/appbar_padding_top"

android

:

theme

=

"@style/AppTheme.AppBarOverlay"

>

<android.support.v7.widget.Toolbar

android

:

id

=

"@+id/toolbar"

android

:

layout_width

=

"match_parent"

android

:

layout_height

=

"?attr/actionBarSize"

android

:

layout_weight

=

"1"

android

:

background

=

"?attr/colorPrimary"

app

:

layout_scrollFlags

=

"scroll|enterAlways"

app

:

popupTheme

=

"@style/AppTheme.PopupOverlay"

app

:

title

=

"@string/app_name"

>

android

:

id

=

"@+id/spinner"

android

:

layout_width

=

"wrap_content"

android

:

layout_height

=

"wrap_content"

app

:

popupTheme

=

"@style/AppTheme.PopupOverlay"

/>

</android.support.v7.widget.Toolbar>

</android.support.design.widget.AppBarLayout>

<android.support.v4.view.ViewPager

android

:

id

=

"@+id/container"

android

:

layout_width

=

"match_parent"

android

:

layout_height

=

"match_parent"

app

:

layout_behavior

=

"@string/appbar_scrolling_view_behavior"

/>

</android.support.design.widget.CoordinatorLayout>
fragment_swipe_view_with_spinner_tab_layout.xml
fragment_swipe_view_with_spinner_tab_layout.xml
1

2

3

4

5

6

7

8

9

10

11

12

13

14

15

16

17

18

19

20

21

22

23

<?

xml

version

=

"1.0"

encoding

=

"utf-8"

?>

<android.support.constraint.ConstraintLayout

xmlns

:

android

=

"http://schemas.android.com/apk/res/android"

xmlns

:

app

=

"http://schemas.android.com/apk/res-auto"

xmlns

:

tools

=

"http://schemas.android.com/tools"

android

:

id

=

"@+id/constraintLayout"

android

:

layout_width

=

"match_parent"

android

:

layout_height

=

"match_parent"

tools

:

context

=

".SwipeViewWithSpinnerTabLayout$PlaceholderFragment"

>

android

:

id

=

"@+id/section_label"

android

:

layout_width

=

"wrap_content"

android

:

layout_height

=

"wrap_content"

android

:

layout_marginBottom

=

"@dimen/activity_vertical_margin"

android

:

layout_marginEnd

=

"@dimen/activity_horizontal_margin"

android

:

layout_marginStart

=

"@dimen/activity_horizontal_margin"

android

:

layout_marginTop

=

"@dimen/activity_vertical_margin"

app

:

layout_constraintLeft_toLeftOf

=

"parent"

app

:

layout_constraintTop_toTopOf

=

"@+id/constraintLayout"

tools

:

layout_constraintLeft_creator

=

"1"

tools

:

layout_constraintTop_creator

=

"1"

/>

</android.support.constraint.ConstraintLayout>
menu_swipe_view_with_spinner_tab_layout.xml
menu_swipe_view_with_spinner_tab_layout.xml
<menu

xmlns

:

android

=

"http://schemas.android.com/apk/res/android"

xmlns

:

app

=

"http://schemas.android.com/apk/res-auto"

xmlns

:

tools

=

"http://schemas.android.com/tools"

tools

:

context

=

"com.zatackcoder.tablayouttest.SwipeViewWithSpinnerTabLayout"

>

android

:

id

=

"@+id/action_settings"

android

:

orderInCategory

=

"100"

android

:

title

=

"@string/action_settings"

app

:

showAsAction

=

"never"

/>
Screenshots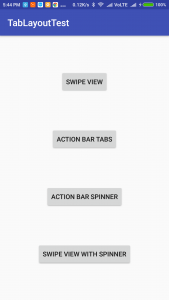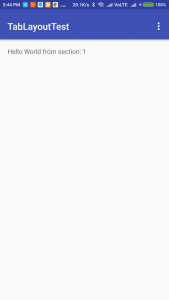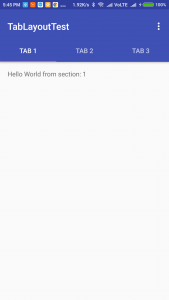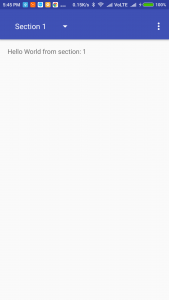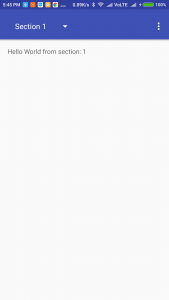 AndroidStudio Project Download
Thanks for stopping by, please share if you like it